CERTIFICATION TESTING (RID and EIPA)
---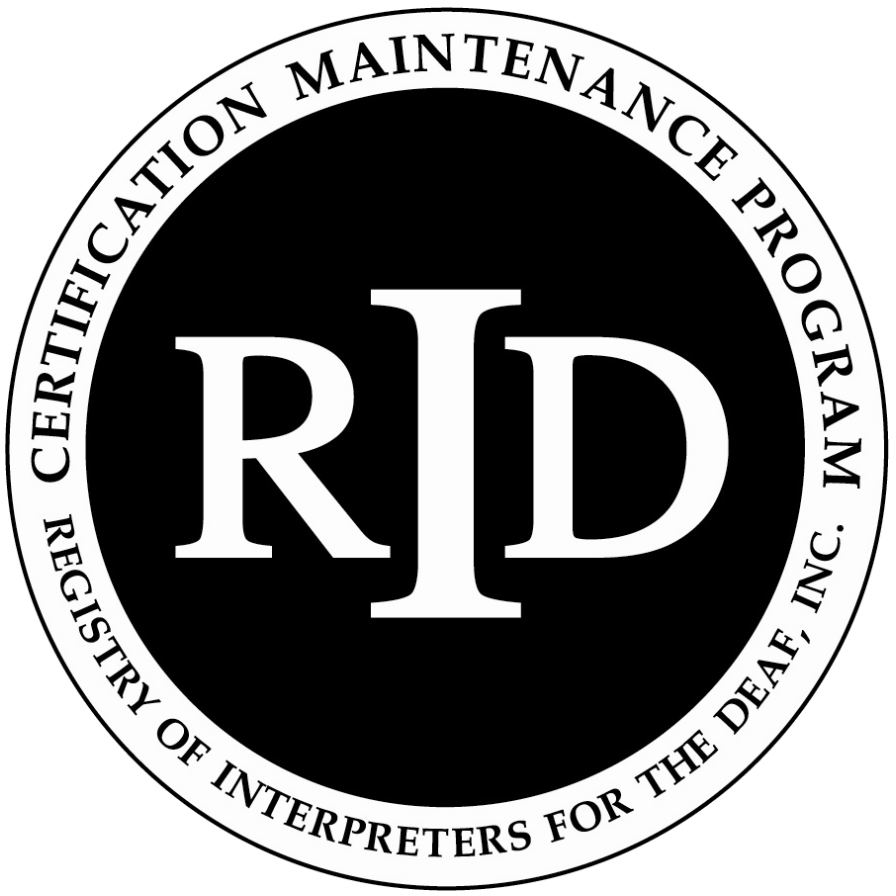 ---
The Registry of Interpreters for the Deaf (RID) is a national organization and a certifying body for those persons wishing to engage in the practice of interpreting. With new laws mandating qualified interpreting and the passage of the Americans with Disabilities Act, RID has developed standards of practice, including a code of ethics, for interpreters. A formal written examination and video-taped performance tests are the methods utilized to evaluate the skill of interpreter candidates. The Deaf Action Center has been designated a Super Site (Site #115), a satellite of RID, whereby a candidate may petition to take the RID written examination, and upon successful completion, evaluation of interpretation and transliteration skills.
The Center also serves as a testing site for the Educational Interpreter Performance Assessment developed by Brenda Schick and Kevin T. Williams. The Educational Interpreter Performance Assessment (EIPA) is a tool designed to evaluate the voice-to-sign and sign-to-voice interpreting skills of interpreters who work in the elementary and secondary school classroom setting. The EIPA evaluates the ability to expressively interpret classroom content and discourse and the ability to receptively interpret student or teen sign language. It is not limited to any one sign language or system. EIPA is used to evaluate interpreters who work with students and teenagers who use predominately American Sign Language (ASL), Manually-Coded English (MCE) and Pidgin Sign English (PSE).
Areas the EIPA Does and Does Not Evaluate: Some professional skills can only be assessed by administrators/educators in the school district. The EIPA does not assess the interpreter's performance as a member of the professional team, how well the interpreter performs as a professional (i.e., follows professional guidelines), or how well the interpreter completes duties other than interpreting, such as tutoring and aiding.
---
CLIENT SERVICES
---
These resources are made available to clients with special and specific needs in a conducive and effective language. Beyond simply assisting clients with accessing appropriate resources, clients are incorporated into the resource research and referral process. With the assistance of the service coordinator, clients experience a hands on approach with the computer, the TDD, the VCO, and written correspondence. Appropriate English skills are taught utilizing each communication venue. The ultimate goal is for the client to eventually independently access needed resources.
For more information contact DAC.
---
INTERPRETER SERVICES
---
Interpreting is central and core to all services provided by the Deaf Action Center. This being so because no matter the service provided or the resource acce ssed there must be an appropriate and effective method of communicating. Given the language complexity of the Community – from those with minimal formal sign language skill to those bi-lingual persons proficient in both American Sign Language and English – the Center employs a compliment of individuals possessing, or training to acquire, the knowledge and skills necessary to accommodate the needs of such a client disparity. Interpreters may be requested for situations ranging from community functions e.g., theatre, meetings, lectures, and formal classes to the more individualized appointments e.g., a doctor visit, applying for a loan, or a wedding.
For emergency interpreting assistance, please call the Deaf Action Center office at 318-425-7781.
---
---
VIDEO REMOTE INTERPRETING (VRI)
Promotional Video
Video Remote Interpreting, or VRI, uses videoconferencing technologies to access sign language interpreting services without an interpreter on site. DAC can provide this service to customers all over the country. Video Remote Interpreting can be used in situations such as staff meetings, doctor visits, conferences, or training sessions. Instead of having an interpreter physically present with the deaf and hearing parties, the interpreter is located at DAC's offices and facilitates communication remotely, saving the cost of mileage, travel time, and two-hour minimums. Many businesses can utilize the teleconferencing equipment that they already have on site. VRI interpretation may be arranged in advance, or requested on-demand. Different charges and minimums apply.
For more information contact Earl Harden at 318-425-7781.
---
INFORMATION ON DEAFNESS
---
For the benefit of Deaf Community members, students (sign language, high school, and university), and the hearing population, the Betty and Leonard Phillips Deaf Action Center has established a formal library of multimedia form. In the library, the Center houses current information on such topics as Deaf history and culture, various modes of manual communication, addiction recovery, interpreting, current laws such as the Americans with Disabilities Act (ADA), children's information, and oral communication methods. The library is available to the community during normal business hours or by scheduling an appointment.
---
LEGAL SERVICES
---
The Deaf Action Center, in partnership with the Shreveport Bar Foundation Pro Bono Project is able to provide legal services for Deaf individuals who have been served to appear in Caddo (First Judicial District Court) or Bossier (26th Judicial District Court). For an appointment with a volunteer lawyer, an
initial interview form
must be completed. If a referral to a volunteer attorney for representation is needed, a SBF Pro Bono Project
application form
(3 pages) will need to be completed.
The Project handles civil legal issues only (no criminal) or no fee generating cases (suing for damages). However, if a person wants to know "can I sue for damages in this situation?", then you can make an appointment for an interview to get advice. If the case is fee generating, then you would have to retain your own lawyer to do the work.
For more information, call the Pro Bono Project at (318) 221-8104, Monday through Friday, between 2:30 and 4:00 p.m.
---
SIGN COMPANY
---
The Sign Company is a theatrical troupe comprised of deaf, hard of hearing, and hearing individuals united as an outreach program of the Deaf Action Center. The goal is to inform and acclimate the community to deafness and Deaf Culture. The group artistically weaves mime, drama, and song with the language of the Deaf, American Sign Language. Throughout the year the Company tours schools, churches, nursing homes, and civic and community events performing and providing workshops. Sign Company productions are currently suspended, but you can view past performances on the
DAC YouTube Channel.
---
SOCIAL SERVICES
---
Essential to and a component of Deaf culture is the need to socialize with members of the community to catch up on recent events, (both personal and social), share information regarding upcoming events, and enjoy the comradery of persons within the culture. The Deaf Action Center provides an environment and a commons area whereby the Community can gather to this end.